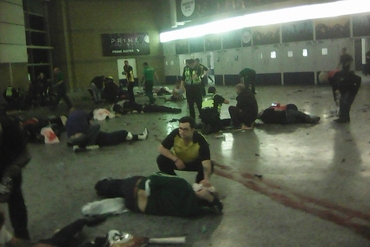 The pop star Ariana Grande has canceled the remaining dates of her "Dangerous Woman" tour following the murder of 22 fans (at the time of writing) and the injury of dozens more at her concert in Manchester. The Manchester Royal Infirmary reports that half the victims brought to the hospital overnight are children. The killer was a suicide bomber. Theresa May says the police believe they know his identity. The usual, predictable details will follow. [UPDATE: He's Salman Abedi, the Manchester-born son of Libyan refugees and another "
known wolf
".]
As
The Independent
's headline
has it
:
There's only one way Britain should respond to attacks such as Manchester. That is by carrying on exactly as before.
That's not actually the "only" way Britain could respond, but it seems the way to bet, judging from the responses of the political class. "Carry on" is a very British expression. One thinks of the famous scene in one of the most famous of the Carry On comedies, Carry On Up The Khyber, surely the most insightful film ever made about Afghanistan: as you'll recall, the revolting Khasi of Khalabar grows ever more enraged at the British Governor's refusal to let the shelling and destruction of Government House disrupt his dinner party. Even when the Khasi has the main course replaced with the head of a decapitated fakir, Her Majesty's viceroy declines to let his eye be caught by these vulgar attention-seeking jihadists. The film received unenthusiastic reviews from London critics in 1968. One would not have predicted that half-a-century later it would be official British policy on the home front.
Easier said than done, alas. A couple of hours ago, as I write, the Arndale shopping center in Manchester was evacuated, somewhat chaotically, with hundreds of customers stampeding for the exits lest they be the cause of The Independent's next carry-on editorial. The Arndale was the scene of the city's last big terror attack - in 1996, when the IRA totaled it. Two hundred people were injured, but nobody died, and you don't have to be a terror apologist like Jeremy Corbyn to find the bad old days of Irish republicanism almost quaint by comparison. A few weeks ago the BBC reported that "approximately 850 people" from the United Kingdom have gone to Syria and Iraq to fight for Isis and the like. That's more volunteers than the IRA were able to recruit in thirty years of the "Troubles", when MI5 estimated that they never had more than a hundred active terrorists out in the field. This time maybe it's the exotic appeal of foreign travel, as opposed to a month holed up in a barn in Newry.
Read More: https://www.steynonline.com/7841/dangerous-woman-meets-dangerous-man