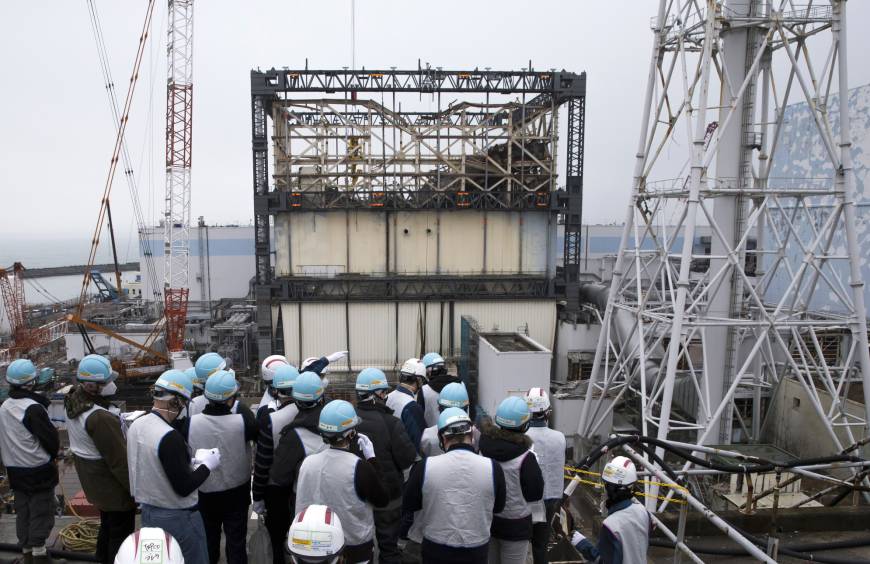 OKUMA, FUKUSHIMA PREF. –
While a recent investigation found what may be melted nuclear fuel rods in reactor No. 2 containment vessel at the Fukushima No. 1 plant, that information isn't nearly enough to devise an effective method for removing it, the chief of the plant told reporters during a media tour Thursday.
"We put in cameras and robots and obtained valuable images, though they were partial . . . but it's still unclear what is really going on there," said Shunji Uchida, who became chief of the crippled plant last July. "We first need to know the situation of the debris."
Last month, the utility inserted a 10.5-meter rod with a camera on its tip into a hole in the No. 2 reactor's primary containment vessel and discovered black lumps sticking to the grating directly underneath the suspended pressure vessel, which holds the core.
Tepco claims it is still unsure whether the lumps are really melted fuel that burned through the bottom of the pressure vessel. Although it is still years away from actually trying to remove the fuel, Tepco, the government and related parties are planning to decide on a basic strategy this summer and go into more detail next year.
Read More: http://www.japantimes.co.jp/news/2017/02/23/national/pics-fukushima-robots-not-enough-devise-fuel-removal-plan-reactor-2-tepco/#.WK8hRNQrK4R