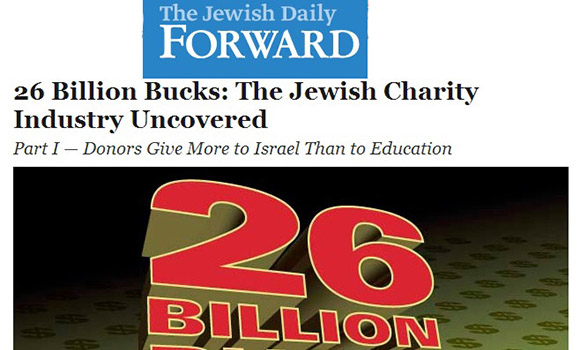 Pre-commentary by Dr. David Duke. An article in the Jewish Daily Forward newspaper has claimed that "Jewish charities" give more money to Israel than they do to education, and that this figure is of the order of $26 billion.
It is not anti-Semitic to point out the tremendous power of the Jewish Establishment in America and on a a global scale. One only has to look at the leading, powerful Jewish organizations that exist not only for direct Jewish advocacy in regard to Israel and perceived Jewish interests but in a wide range of domestic policies which these organizations view in the context of Jewish interests.
It is typified by the huge consortium of Jewish organizations called the Council of Presidents of Major Jewish Organizations, which is comprised of the fifty richest and most powerful Jewish organizations in the United States.
As Professor Kevin McDonald points out in this article below, this figure is actually not even the real total—it is considerably more. As he points out, this figure does not include what is collected at synagogues—and then given to Israel—each month, because synagogues, schools and seminaries are not required to file tax returns.
This is of real importance for everyone who wishes to understand how the Jewish lobby in America works, and how it uses American money—and taxpayers—to keep the racist Jews-only state of Israel in business. Not only are these organizations unabashedly supportive of Israel, they take aggressive positions on most American domestic issues, such as destruction of the second amendment and promoting American open border policy.
Going back later you have a cup of coffee in the
In an is is you to be a selfish narcissist is going to but yourself and that your kids anymore anyway so you plan today
Read More: http://davidduke.com/26-billion-dollars-jewish-lobby-just-tip-iceberg/