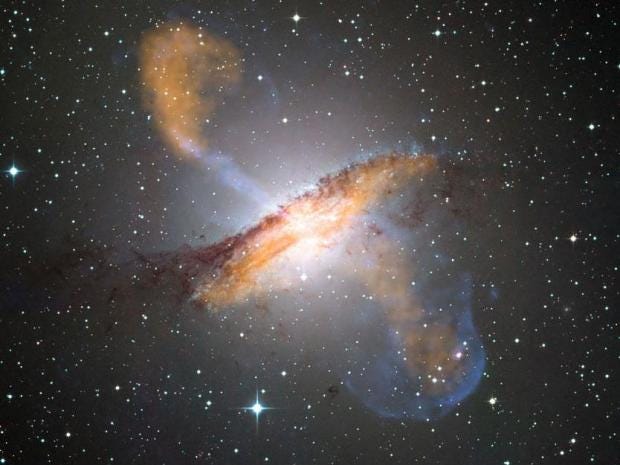 Black holes are doors to other parts of the universe, according to a new study. But you wouldn't ever get to come back.
Anyone who managed to get through one of the mysterious doors would end up "spaghettified", and stretched out like a long strand of pasta, according to the research. They'd get squished back down to size once they reached the other side, but it's unlikely they'd be alive to see it.
Previously, scientists have held that all matter inside of a black hole is destroyed and so there would be no way of ever actually making it through. But the new research suggests that it could act as a doorway or a tunnel – as in a sci-fi story.
Black holes are places where matter has been squashed to such a density by gravity that the normal laws of physics break down.
The new theory rejects the view that at the centre of a black hole spacetime curves to an infinite point known as a "singularity" and all matter is destroyed.
Instead, it proposes that the heart of the simplest type of electrically charged, non-rotating black hole, is a very small spherical surface. This acts as a "wormhole" - a doorway or tunnel through the fabric of spacetime of the kind seen in countless sci-fi stories.
Read More:
http://www.independent.co.uk/news/science/black-holes-are-doors-to-another-world-scientists-say-a7174646.html