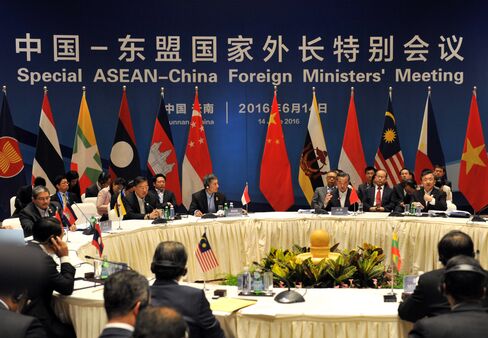 A meeting in China of foreign ministers from Southeast Asian nations over the South China Sea ended in confusion after Malaysia released and then retracted a joint statement expressing "serious concerns" over developments in the disputed waterway.
The disarray raises fresh questions about unity within the 10-member Association of Southeast Asian Nations, ahead of an international court ruling on a Philippine challenge to China's claims to more than 80 percent of the waterway. Asean operates on consensus, which means all members must agree on a statement before it is released.
China's claims criss-cross those by nations including the Philippines, Vietnam, Brunei, and Malaysia, and it has reclaimed thousands of acres of land in the area while boosting its military presence. It argues disputes in the waters that handle more than $5 trillion of trade a year have nothing to do with its relationship with Asean.
After noting progress in ties between China and Asean, the withdrawn statement said: "But we also cannot ignore what is happening in the South China Sea as it is an important issue in the relations and cooperation between Asean and China." Until now, Asean has avoided citing China by name when calling for a lowering of tensions.
That phrase is "a direct rebuke to China's position that the dispute is not a matter between Asean and China," said Ian Storey, a senior fellow at the ISEAS-Yusof Ishak Institute in Singapore. China has said the disputes should be handled on a bilateral basis.