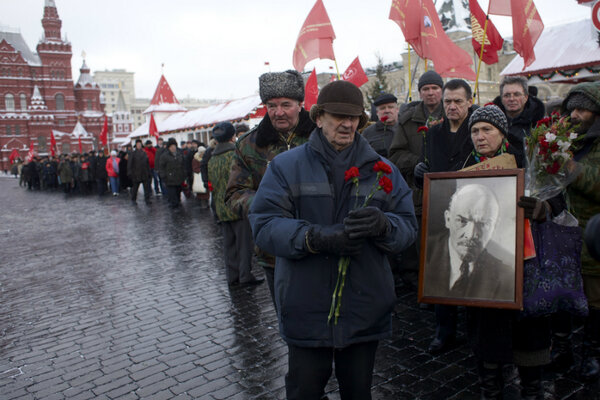 With economic woes at home and tensions with the West abroad, Russians are putting a new gloss on the Communist years – one that even previously unsupportive authorities seem to now be tacitly backing.
KALUGA, RUSSIA —
For the groups of schoolkids who file through the newly minted Hall of the Soviet Epoch, the relics on display – household appliances, cameras, radios, money, Lenin busts, and political banners – might as well be from Mars.
But for older visitors to the cultural center, the little slice of a vanished civilization tends to evoke sighs of nostalgia. Some put a note in the guest book saying it's high time someone created an exhibition like this to teach the youth about the lost world that their grandparents built and fought for.
Indeed, for many years such a shrine to Russia's bygone Soviet era would have been frowned upon by authorities, despite the
forgiving and even warm-hearted view
that most Russians have consistently shown toward their former superpower homeland over the years. But the Soviet exhibit, which opened in August at the Kaluga Leisure Center, did get the go-ahead from local officials this time.
And given the ongoing, cold-war-like tensions with the West and economic woes at home, experts say that memories of the Soviet era have earned a new gloss – one that authorities might welcome as a subtle reminder to the public that Russia held its own against the US and its allies, and perhaps could again.
Read More:
http://www.csmonitor.com/World/Europe/2016/0129/Maybe-the-Soviets-weren-t-so-bad-Russian-nostalgia-for-USSR-on-the-rise