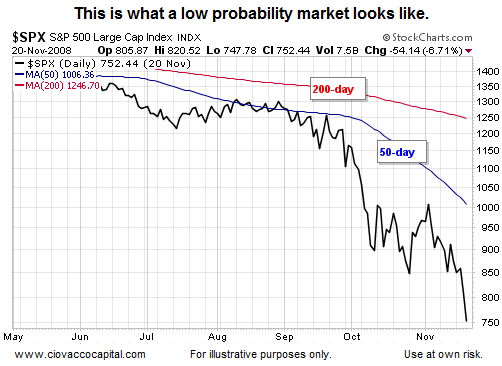 Global Growth And Earnings
Experienced investors know when the market swings wildly from day to day, that looks more like a corrective period than a stable attempt to stage a sustainable rally. Concerns include more than just the Fed. From
Reuters
:
The S&P 500 on Thursday posted its largest percentage decline in six months on concerns about the strength of the global economy and its effect on corporate earnings. The slide dragged the benchmark to below its 150-day moving average for the first time since November 2012. The selloff, which put the S&P 500 at its lowest since Aug. 7, followed weak data from Germany, Europe's largest economy, and comments from a Fed official who suggested investors had unrealistic expectations about the Fed's eventual rate increase.
2008: Low Confidence Period
Using 2008 as a reference point, the slopes of the S&P 500's 50-day (blue) and 200-day (red) were indicative of concerns about the economy and financial system.
Fast forward to October 2014 and we see small caps are showing a discernible shift in economic and systemic confidence. The profile of small caps is starting to deteriorate in a way not seen in 2013.
The broad NYSE Composite Index has dropped below its 50-day and 200-day moving averages. The NYSE Composite is also testing important support.
Read More at: http://ciovaccocapital.com/wordpress/index.php/stock-market-us/stocks-bigger-picture-showing-cracks/