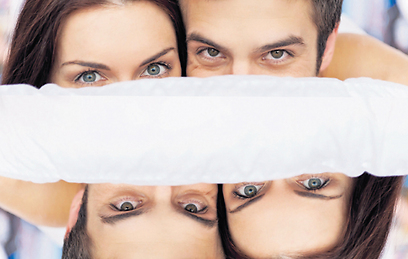 In the puritan suburb in which I grew up, no one talks about sex. It's taboo. I'm not totally convinced that they even have sex there. Children there may come into this world the good old-fashioned way – the stork-delivery method. The operating system is a simple one: You get married, you live with the same partner for 50 years, you have sex only with him/her, and then you die. I knew vaguely that there are couples who live differently, and that there is indeed a different kind of sex – people who sometimes swap partners, just for a bit of variety, to add a little spice to the dish of wedlock. And that's just fine.
Sapir College researcher Gali Avidov, who examined the various practicalities of swinging in the context of modern monogamy, argues that contrary to the standard claim that swinging constitutes a threat to love, to the institution of marriage and to the family as a whole, we need to take a new and fresh and sober look at the option of couple swapping.
Instead of viewing it as destructive, she writes in her research paper, perhaps we should see it as a model that could actually save monogamy from total collapse, an adaptive model that responds to the new reality of the 21st century and offers a combined solution, part of which accepts a monogamous partnership, and part of which undermines the generally accepted concept of erotic exclusivity – and all for the sake of preserving and strengthening the love and happiness of the partnership and family set-up.
But does this surprising theory stand up to the test of real life? Well, to examine this question from all angles, and positions, I recruited a free-spirited friend (just between us, would any man pass up on the offer?) and went to a swingers party to check things out for myself. Do I have what it takes to be a real swinger?
Zero sex appeal
The location of the party is kept under wraps. You won't find it on any Facebook group. The only way to participate in the experience is to send a message to a mysterious man and request the precise time and place. By now, I was already suspicious, but I held my tongue. After all, these are normative folk – monogamous in spirit, polygamous in body – who wish to preserve their privacy, who have no wish to publicize their choice of intimate entertainment, the kind at which our society raises an eyebrow and turns up its nose.
The entrance to the location fails to give off an air of eroticism or seduction. To the contrary, the industrial area in which the loft is located, with the fast-food stand on the right and the garage on the left, leaves my mojo somewhat depleted. And in contrast to the super-naughty and mega-cool feeling with which I arrived, the guard at the door didn't appear particularly moved by our presence, and didn't even bother to stop feverishly eating his sunflower seeds, more in keeping with a fan at a soccer match and less so with my definition of sexy.
Read More at: http://www.ynetnews.com/articles/0,7340,L-4576078,00.html