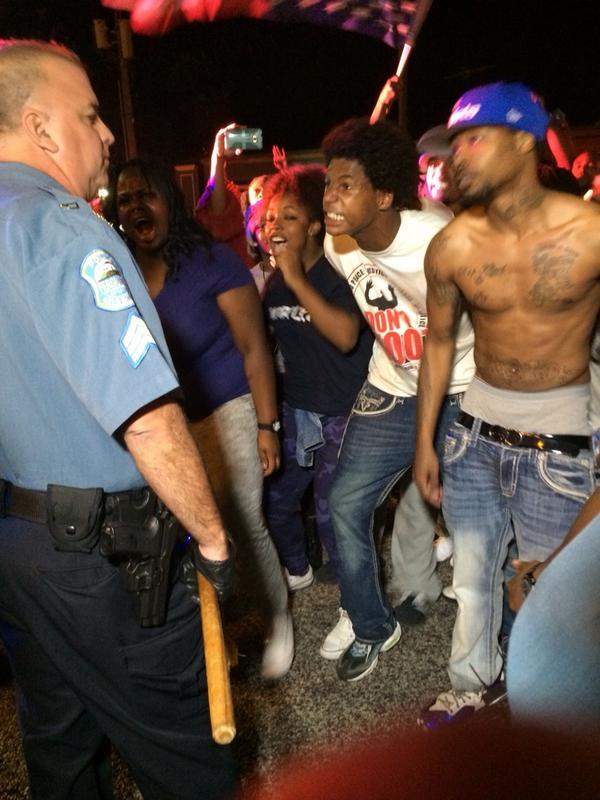 Weakness.
Pusillanimity.

In the animal kingdom, a display of these traits - to a predator - represent grounds for immediate, unrelenting attack.

Easy prey. [In a Video, Police Chief of Ferguson Apologizes, New York Times, 9-25-14]:
Chief Thomas Jackson of the police force in Ferguson, Mo., issued a stark apology to the family of Michael Brown on Thursday, saying in

a videotaped statement

that he was sorry for the death of their son and for the four hours that the body of the unarmed 18-year-old lay in the street after he was fatally shot by a police officer.
In the video, released by a public relations firm nearly seven weeks after the shooting, Chief Jackson spoke for about two and a half minutes, occasionally glancing down at notes in his hand. He was not in police uniform but rather a reddish-pink polo shirt.
"I want to say this to the Brown family. No one who has not experienced the loss of a child can understand what you're feeling," he said, facing the camera and standing in front of an American flag. "I am truly sorry for the loss of your son. I'm also sorry that it took so long to remove Michael from the street. The time that it took involved very important work on the part of investigators who were trying to collect evidence and gain a true picture of what happened that day. But it was just too long, and I'm truly sorry for that."
He also extended his apology to African-Americans in Ferguson, who have accused the police department of racial profiling and mistreatment.
"I'm also aware of the pain and the feeling of mistrust felt in some of the African-American community toward the police department," Chief Jackson said. "The city belongs to all of us, and we're all part of this community. It is clear that we have much work to do. As a community, a city and a nation, we have real problems to solve."
Michael Brown's parents, the odd couple of Michael Brown Sr. and Lesley McSpadden, were "unmoved" by this public display of cowardice and capitulation to the black mob. They want Officer Darren Wilson "in handcuffs."
Read More at: http://stuffblackpeopledontlike.blogspot.com/2014/09/most-iconic-photo-from-black.html